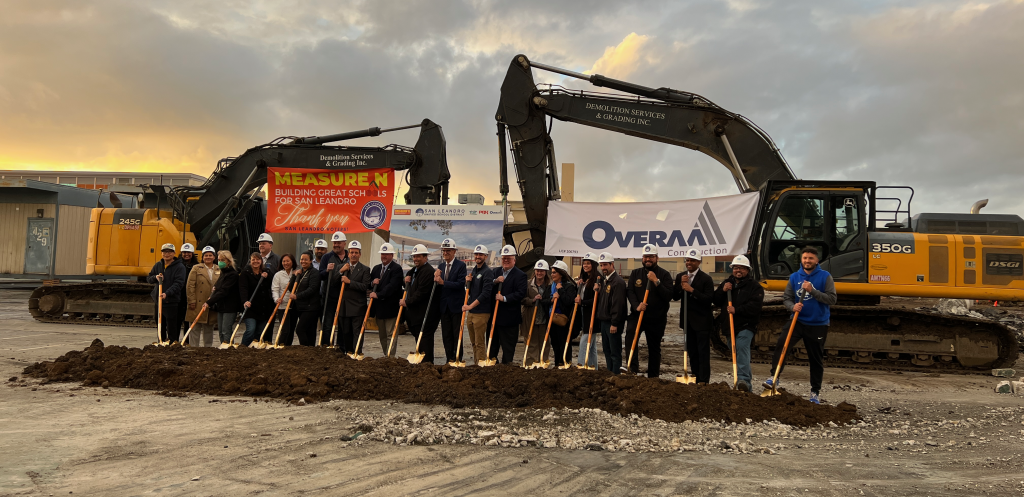 Measure N is a $198M school facilities improvement bond measure that was passed in March, 2020 to improve school facilities with new construction projects and essential renovation.
This funding will help SLUSD continue addressing needs identified in the Facilities Master Plan, as well as complete facility upgrade projects already in progress through previous bond measures.
San Leandro High School Gym
Projected Budget: $67,000,000
New gymnasium, locker rooms, weight room, and practice facility

Electrical upgrade

New school entrance and enhanced parking
San Leandro High School Quad
Projected budget: $3,000,000
New landscaping and hardscaping
Increased seating and shade areas
Energy saving irrigation 
Lincoln High School Campus
Projected Budget: $26,000,000
New campus next to the SLUSD Adult School
New classrooms and multipurpose room
New athletic and outdoor learning spaces
New marquee
See our progress as of 3.8.23 in the video above!
Projected Budget: $14,000,000
Portable replacement

New safety drop off area

Field and track replacement

New blacktop surface

New shade structure

New landscaping

Redesign of school entry

New security fencing
Electric vehicle charging stations
Projected Budget: $11,000,000
Portable replacement

New hardscaping

New shade structure and lunch area

New security fencing
McKinley Elementary School Drop-Off & Entryway
Projected Budget: $2,500,000
New safety pick up and drop off area

Additional parking area

Redesigned school entryway
New security fencing
Electric vehicle charging stations
McKinley Elementary School Courtyard & Shade Structure
Projected Budget: $1,000,000
Courtyard renovation with shade structure and ADA access
McKinley Elementary School Campus Improvements
Projected Budget: $2,000,000
New flooring and hallway refurbishment

New interior painting

Window shades

Additional work during summer 2023 will include hallway upgrades, fencing, and new doors

New marquee
Roosevelt Elementary School (Completed)
New safety drop off area

Entryway redesign

New blacktop surface

New shade structure

New landscaping

Additional classroom technology
Elementary School Shade Structures (Completed)
New shaded outdoor seating areas at the following elementary schools:
Garfield Elementary
Halkin Elementary
Madison Elementary
Monroe Elementary
Roosevelt Elementary
Washington Elementary
Bancroft Middle School Courtyard
Renovations to the existing Bancroft courtyard, including:
New shade structures
New hardscape
New landscaping
New outdoor furniture
New student gathering spaces
Multi-Site Marquee Installation (Completed)
Installation of electronic marquees at the following schools:
Garfield Elementary
Halkin Elementary
Jefferson Elementary
Madison Elementary (separate project)

Monroe Elementary

Roosevelt Elementary
Washington Elementary
Bancroft Middle School (separate project)
John Muir Middle School
San Leandro Adult Education Center (Adult Ed funding)
General Community Bond Information and Documentation