Remote, Online Public Participation For Upcoming Board Meetings
Meeting November 10 at 6 pm
During the COVID-19 pandemic, San Leandro Unified is committed to public input and participation in school district governance in a manner that is consistent with guidance provided by Alameda County public health officials. Remote, online participation is required to comply with current shelter in place orders. 
To view the SLUSD Board Meeting, join in the following ways:
1. Join by computer, phone or tablet: Visit https://slusd-us.zoom.us/j/82839806186?pwd=Y0FtVEJrbExpb05yamtIcElYcGRUQT09 to join the Zoom meeting or enter the webinar ID and password below in the Zoom app.
2. Join by phone:  Dial: (253) 215-8782  or (301) 715-8592. Webinar ID:
828 3980 6186 / Password: 075722
Once joined to the Zoom meeting, public comments may be made by using the "raise your hand" feature. Here is how. Spanish  Chinese. 
Public comments can also be emailed to publiccomment@slusd.us on or before November 10 at 3 pm. Public comments received after this deadline will not be included in the public record. There is a 300-word limit. Identify if the public comment is for a non-agenda or agendized item (specify agenda item number in email).
We are committed to making our meetings accessible to everyone during unprecedented times. If you need additional accommodations or support for remote participation in advance of the meeting, please contact  Michelle Mayfield the executive assistant to the Superintendent at mmayfield@slusd.us or at (510) 667-352227
About the Board of Education
The San Leandro Unified School District Board of Education is comprised of seven members who are elected by the community for a term of four years. The District is divided into six trustee areas. Trustee areas are made as equal as possible in total population as declared by the most recent U.S. census. Board elections take place in November every other year. New board members are sworn in on the first board meeting of December, following the election. The Board of Education develops and sets District policies, which are then implemented by the Superintendent and staff. Each year, the Board of Education works closely with the Superintendent to develop the Superintendent's Annual Goals. In order to carry out the objectives of the Board, each board member is assigned to at least one committee. Board of Education's Public Information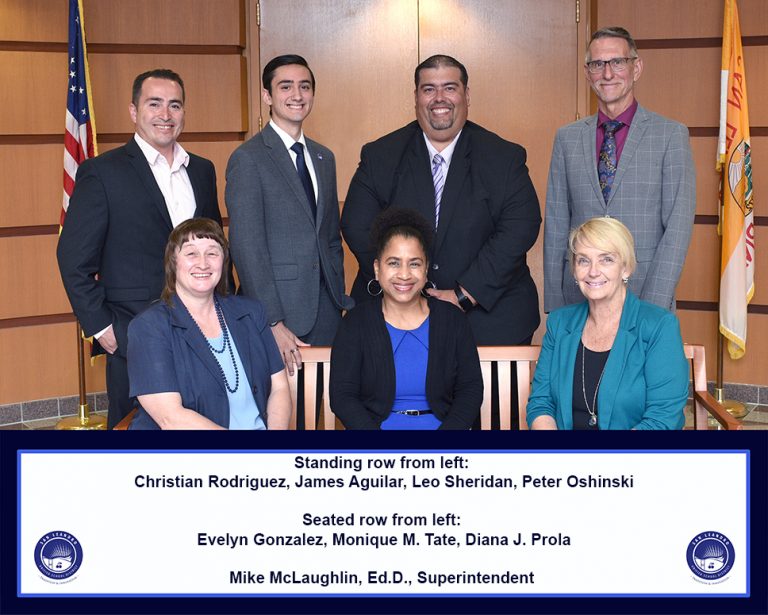 Board Meetings
All school board meetings, except closed sessions, are open to the public, which is warmly invited to attend. Regular meetings are usually the first and second Tuesdays of each month and are held at the San Leandro City Council Chambers, 835 E. 14th Street, San Leandro, CA. 
Board meeting minutes are kept on file at the District office and available online.