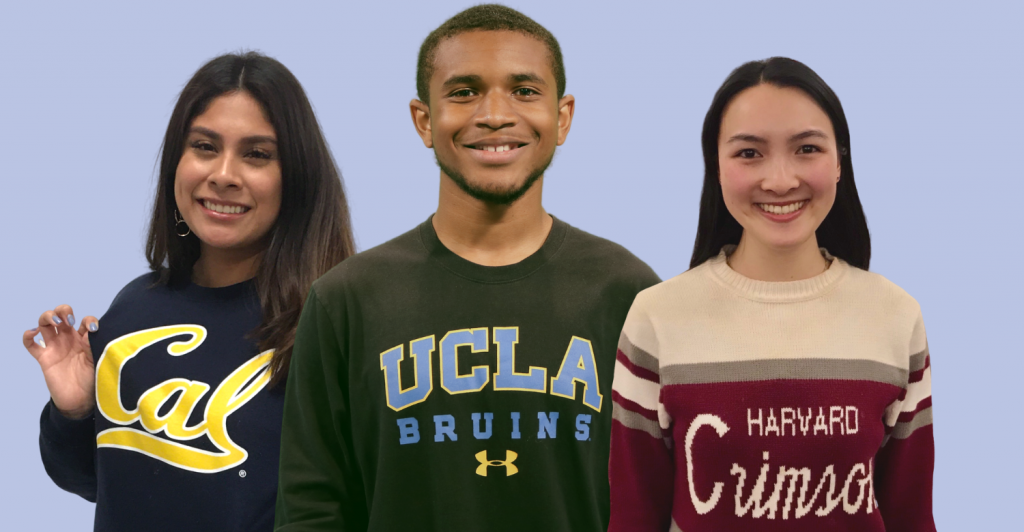 San Leandro Unified. An excellent place to
The San Leandro Unified School District is a culturally rich and linguistically diverse school district in the San Francisco Bay area, dedicated to providing a broad range of rigorous academic programs nested within safe, supportive, and inclusive school environments.
We serve approximately 8,800 students with a wide range of educational offerings, including eight TK-5th grade elementary schools – three of which have a Spanish Bilingual Pathway and one with a Mandarin Bilingual Pathway, two middle schools, one comprehensive high school, an alternative education high school, a Tk-12 virtual academy, and an adult school. The community continues to value neighborhood schools, with almost all students attending the school determined by their enrollment zone.
Our learners come from a highly diverse community where over 38 languages are spoken. 26% of our students are English Learners. 12.4% are identified as students with special needs. Approximately 60% are socio-economically disadvantaged.
Our mission is to educate these students to achieve academic excellence to become confident, collaborative, and engaged citizens in a community rich in heritage and diverse in culture, where traditions are valued, and innovations are embraced. This mission requires authentic, reciprocal partnerships with educators, families, and students and a persistent focus on eradicating institutional biases that have rendered historically inequitable outcomes for large segments of the community we serve. With these goals in mind, all district personnel, programs, and services focus on equity to ensure all students have the opportunity to be healthy, engaged, and successful.
To guarantee we deliver on those promises, the Board of Education approved the SLUSD Graduate Profile in 2018. The profile codifies our shared vision for a measurable set of student outcomes that define what all graduates should know and do to be prepared for post-secondary education, career, and civic participation. Through this alignment, we can demonstrate that students are fully prepared for college and careers as cultural and ethical leaders, critical thinkers, communicators, and collaborators who have healthy minds and bodies.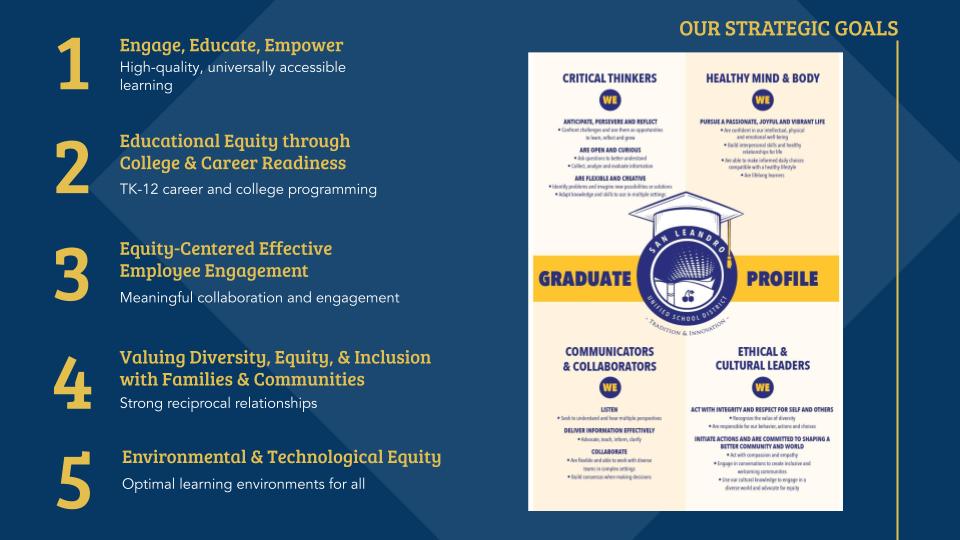 These ambitious goals are realized through ongoing three-year strategic action planning. Since 2014, our organization continuously evaluates and improves programs and services by aligning with five targeted, systemic goals and expectations. Our three-year plan for 2021-2024 prioritizes the following:
GOAL #1: Engage, Educate, Empower
Every classroom and program in the district will support high-quality, universally accessible learning experiences across the content areas to foster the SLUSD competencies expressed in the Graduate Profile.
GOAL #2: Educational Equity through College and Career Readiness
Comprehensive, adaptive, and productive TK-12 career and college programming, with work-based learning and post-secondary opportunities, robust mentoring, aligned with the SLUSD Graduate Profile.
GOAL #3: Equity-Centered Effective Employee Engagement
All staff and district partners meaningfully collaborate and remain fully engaged around our student learning goals to provide outstanding educational experiences to all students.
GOAL #4: Valuing Diversity, Equity, and Inclusion with Families and Communities
SLUSD will support and strengthen reciprocal relationships between families and our community that enhance our students' positive social, emotional and academic development.
GOAL #5: Environmental and Technological Equity
SLUSD will improve and maintain facilities and technology infrastructure to provide optimal learning environments for all students.
See more details about our planning here.
THE STATE OF OUR DISTRICT