Get online and get started!
Logging in to Chromebooks
Open your student Chromebook
Log in using your student Gmail account:
Student Gmail: First Name + Last Name Initial + Perm Id Number 
Student password: Student Date of Birth 8-digit format - MMDDYYYY
You will be redirected to your Clever account.
For support, email datateam@slusd.us
What is Clever?
Clever offers single sign-on access for all online learning. Students can access all their learning programs with a single set of credentials.
What is Seesaw?
Seesaw is a learning management system for all of our elementary students. You can now access your teacher's classroom and connect with your teacher and classmates more effectively. 
In Seesaw you can:
Use creative tools to take pictures, draw, record videos, and more to capture learning in a portfolio.

Record videos and more to capture learning in a portfolio. 

Complete assignments
How to login to Seesaw? 
Students can use the Clever Sign In and Clever Badges on the web and iOS devices. Clever Badge login isn't supported on Android mobile or tablet devices at this time.
Go to https://app.seesaw.me/ or open the Seesaw Class app.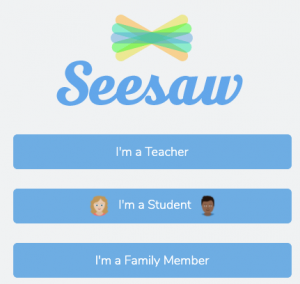 Tap "I'm a Student"
Tap Seesaw for Schools Clever Sign In.
What is Schoology?
Schoology (pronounced: Skoo'-luh-jee), is an award-winning learning management system. Now you can access all your courses with our new online learning platform and connect with your teachers and classmates more effectively.
In Schoology you can:
Access the Contents of Courses

Submit Assignments

Take Assessments

Communicate with Teachers and Classmates

View Your Scores on Assignments
Schoology is available to all San Leandro Unified School District secondary students. Since an account has already been created for you, all you have to do is login!
How to log in to Schoology:
Finding Student Login Information in Aeries Parent Portal
Login to your Aeries Parent Portal Account.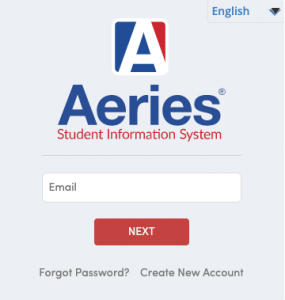 Go to Student Info, then Click Demographics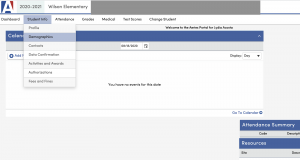 Click Student Data 2

Username is the student's Network Login ID (FirstName + LastName Initial + PERM ID)
Ex. MichaelC123456
Default Password is the student's birthday in (MMDDYYYY) format 
(Note that towards the end of the year we open the permission for students to change their password, if they changed their password, most likely their birthday will not work) 
To log in to Clever and other platforms, you will need the student's email address. 
How to find your student's email address:  Network Login ID + @slusd.us
Ex. MichaelC123456@slusd.us
If you are having trouble logging in to the Aeries Parent Portal, please contact your school's principal, office manager or parent facilitator for assistance. You can find contact information on our district website at www.slusd.us under the school directory.
SLUSD hotspots are available only through your site administrators. Please contact your principal if you do not have internet access at home.
| | |
| --- | --- |
| Student hotspots automatically connect to SLUSD Chromebooks when turned on. Press and hold the power button until the lights turn on. | |
| | |
| --- | --- |
| Your Chromebook will connect to a network named "SLUSD Hotspot 2.4GHz". | |
| | |
| --- | --- |
| If the hotspot does not connect, plug the USB cable, included in your package, into the hotspot and into the Chromebook. | |
| | |
| --- | --- |
| This will connect the Chromebook to the "Ethernet" connection and get you online.  Leave plugged in for at least 5 minutes. After that, the Chromebook will stay connected wirelessly. | |