Meet Our Parent Facilitator
Laura Ordonez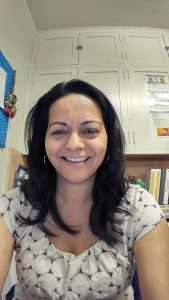 My name is Laura Ordonez, and as your Parent Facilitator, I am here to serve you.
What I love about my job is that I get to meet so many awesome students and parents. 
I have two daughters at San Leandro High School, so I understand how overwhelming school can seem.  
I am here to help with any questions you may have regarding your student, the school and any help you might need navigating the school system. 
If I don't have the answer, I will work diligently to help find the answers to your questions.
Please do not hesitate to contact me if you have any questions or concerns.
510-618-4350 ext 3290
Mi nombre es Laura Ordóñez, y como su facilitadora de padres, estoy aquí para servirle. 
Lo que me encanta de mi trabajo es que puedo conocer a tantos estudiantes y padres increíbles. 
Tengo dos hijas en San Leandro High School, así que entiendo lo abrumadora que puede parecer la escuela.    
Estoy aquí para ayudar con cualquier pregunta que pueda tener con respecto a su estudiante, la escuela 
y cualquier ayuda que pueda necesitar para navegar por el sistema escolar. 
Si no tengo la respuesta, trabajaré diligentemente para ayudarlo a encontrar las respuestas a sus preguntas. 
No dude en comunicarse conmigo si tiene alguna pregunta o inquietud.
510-618-4350 ext 3290