Principal Paulette Smith
Service leadership is all about serving others with compassion and intentionality. As the Principal of Madison Elementary School, I am committed to working in partnership with the San Leandro Unified School District and the Madison Elementary School's community to achieve the strategic academic and socio-emotional goals for all students.
James Madison Elementary is a unique and special school community!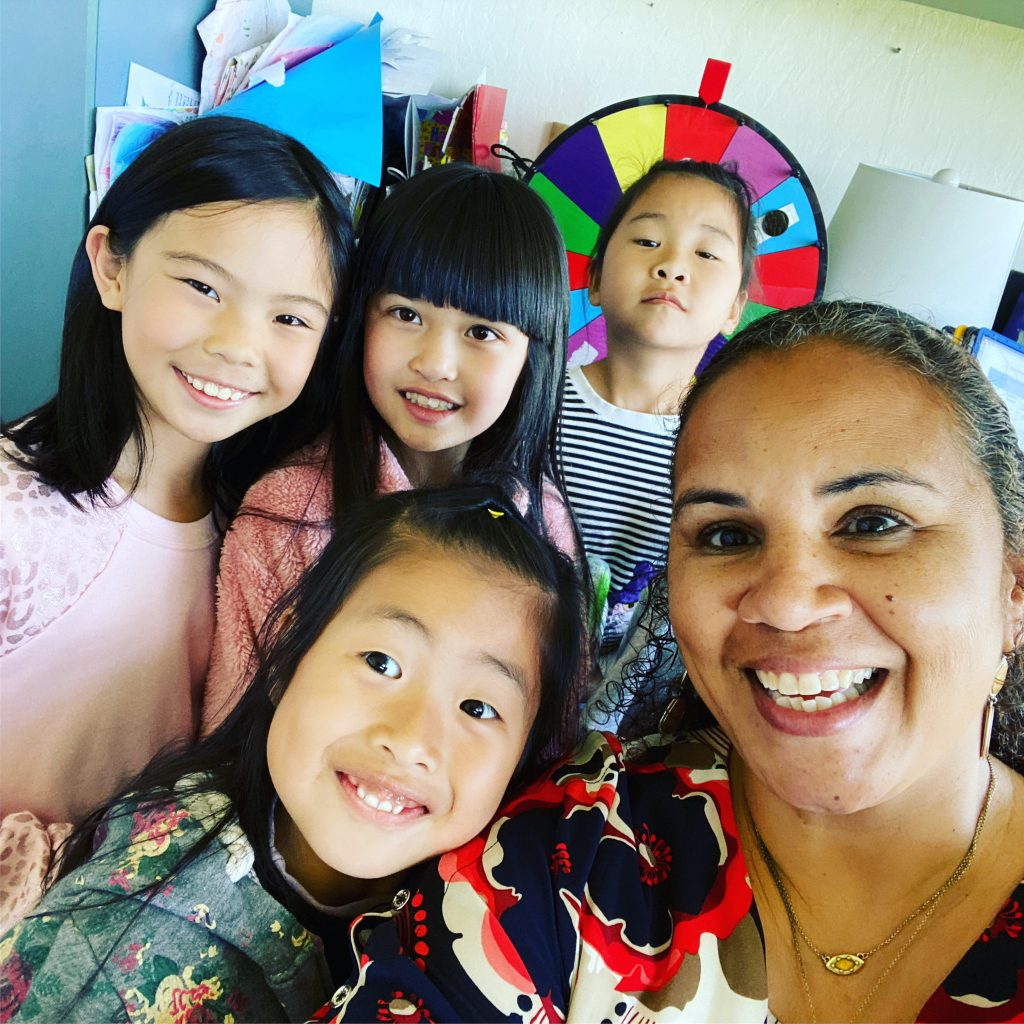 I have had the honor of being an educator for over 18 years. I have a bachelor's degree in business and a master's degree in Educational Leadership. I started in the Oakland Unified School District, as a classroom teacher in 2001. I taught Kindergarten and 4th grade for 7 years. I worked hard to create opportunities and access for students in and out of my class. I then applied for and was accepted into the New Leaders Principal Program. I was a Principal at Joaquin Miller Elementary School in OUSD for 6 years. Through a listening campaign and relationship building our school grew in population, test scores, and community. We were a diverse school economically, racially, linguistically, and ability. We welcomed students on the autism spectrum and created supports for students in SPED. We also worked to create an inclusive school for students on the LGBTQIA spectrum. I spent 2 years as a Director of Emerging Leaders, with New Leaders. In this role, I coached teacher leaders across the Bay Area in public and charter schools. Working with these dedicated teachers was amazing. The last two years have been in administration in the San Joaquin County area. San Joaquin Elementary/Middle School in SUSD is a very large school of 900 students. The school is located in a high trauma community. It has been an opportunity for me to implement restorative justice practices to solve conflicts and to support the growth of students academically. It is my pleasure to bring a wide breath of educational experience and knowledge to SLUSD.
---
Biografía del director
Servir en liderazgo tiene que ver con servir a los demás con compasión e intencionalidad. Como nueva directora de la Escuela Elemental Madison, yo estoy comprometida en trabajar colaborativamente con el Distrito Escolar Unificado de San Leandro y con la comunidad de la escuela Elemental Madison para lograr objetivos estratégicos para todos los estudiantes.
He tenido el honor de ser educadora por más de 18 años. Poseo una licenciatura en negocios y una maestría en Liderazgo Educativo. Comencé en el Distrito Escolar Unificado de Oakland, como maestra en 2001. Enseñé Kindergarten y 4º grado durante 7 años. Trabajé arduamente para crear oportunidades y acceso para los estudiantes dentro y fuera de mi clase. Posteriormente, solicité y fui aceptada en el Programa de Nuevos Directores Líderes (New Leaders Principal Program). Fui Directora en la Escuela Elemental Joaquin Miller en OUSD durante 6 años. A través de una campaña de retroalimentación y formación de relaciones, nuestra escuela creció en población, resultados de exámenes y comunidad. Éramos una escuela diversa económica, racial, lingüísticamente y con capacidad. Dimos la bienvenida a los estudiantes en el espectro del autismo y creamos apoyos para los estudiantes en el área de Servicios Especiales. También trabajamos para crear una escuela inclusiva para estudiantes en el espectro LGBTQIA. Pasé dos años como Directora de Líderes Emergentes, con Nuevos Líderes. Durante esta gestión, entrené a maestros líderes de escuelas autónomas y públicas en el Área de la Bahía. Trabajar con estos maestros dedicados fue increíble. Los últimos dos años he estado en administración en el área del Condado de San Joaquín. La Escuela Elemental/Intermedia San Joaquín en el Distrito Escolar Unificado de Stockton por sus sigla en Inglés (SUSD) es una escuela muy grande de 900 estudiantes. La escuela está ubicada en una comunidad con alto trauma. Esto me dio la oportunidad de implementar prácticas de justicia restaurativa para resolver conflictos y para apoyar el crecimiento académico de los estudiantes. Es un placer para mí brindar una amplia experiencia y conocimiento educativo a SLUSD.
---
校長的簡歷
服務領導力就是以同情和敬意的態度為他人服務。作為Madison小學的新校長,我致力於與San Leandro聯合校區和Madison小學社區合作,實現校區策略目標給所有學生。
我有幸成為一名教育工作者超過18年。我擁有商業學士學位和教育領導碩士學位。我於2001年開始在Oakland聯合校區擔任課堂教師。我教導幼稚園班和4年級生7年。我努力為學生在課堂內外創造學習機會。及後,我申請並被新領袖校長計劃錄取。我在OUSD的Joaquin Miller小學擔任了6年的校長。
通過傾聽活動和建立關係,我們學校的人口,考試成績和社區都在增長。我們是一所多元化的學校,在經濟,種族,語言和能力各方面。我們歡迎有自閉症的學生,並通過SPED為學生提供支援。我們還致力於為LGBTQIA的學生創建一所包容性的學校。作為新進領導人主管,我有2年與新領導人一起工作。在這個職位上,我指導教師,在整個灣區的公立學校和特許學校。
與這些敬業的老師合作令人興奮。過去兩年我一直在San Joaquin縣地區做行政工作。San Joaquin小學/中學在SUSD的是一所擁有900名學生的大型學校。學校位於一個極度創傷的社區。我有機會推行恢復性司法,以解決衝突並支援學生在學術上成長。我很高興能把我的廣泛教育經驗和知識帶來SLUSD。