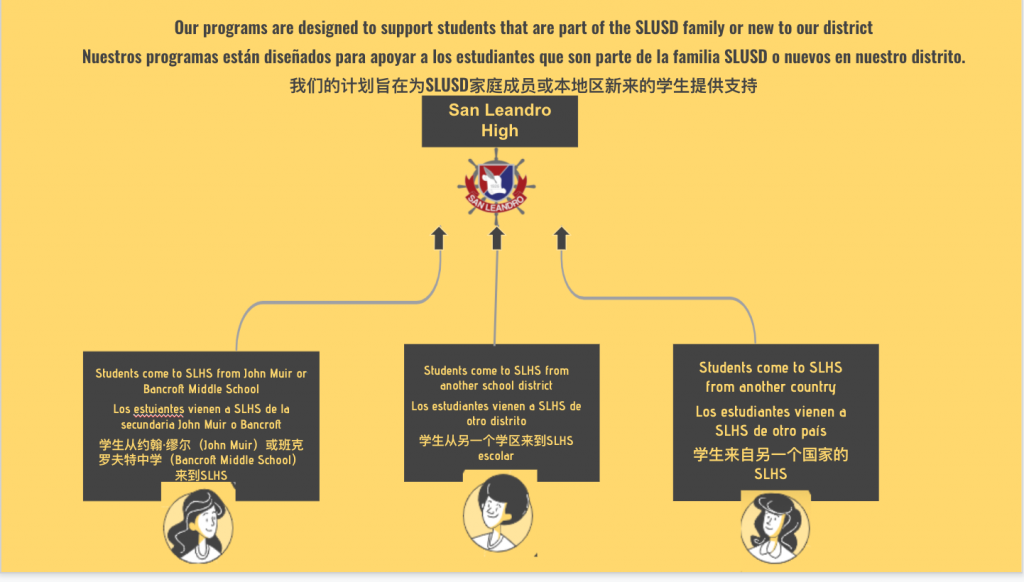 Support for Becoming Bi-lingual
All of our English Learners receive ELD in two ways: special classes for English language development (Designated ELD) and support from all teachers during all other classes (Integrated ELD). Additionally, we have Newcomer Pathway to provide specialized support for those that are new to the country.
Designated ELD: There are different classes for Designated ELD.
For students that are new to English or new to the country, they take ELD 1 or 2. ELD 1 and 2 help with basic academic reading, writing, speaking and listening skills. 

For students that have already developed some English language skills, they take ELD 3 or 4. ELD 3 and 4 support students to learn the discipline-specific language that is needed and universal language used across academic disciplines.

For students that are long-term English Learners and have not YET reclassified, they take Oral Interpretation. This class supports students to read and write and speak regularly about academic subjects and to prepare them to pass the ELPAC.
Integrated ELD: All SLHS teachers are trained to support English Learners. Some classes have small groups of English Learners. Teachers explicitly teach the language needed to read, write and speak in their classes. These courses are taught by certified content area teachers. EL Para Educators are included in many of these courses for additional support
NEWCOMER PATHWAY
All students that are 3 or less years in the US and are emerging bilingual students (level 1 or 2 on ELPAC) are eligible to join our Newcomer Pathway. This Pathway is designed to provide a supportive environment, while also giving students access to essential classes and credits they will need to graduate and enroll in college. 
If a student is eligible and the parent or guardian chooses to enroll the student in the pathway, students will attend A-G classes in core subject matter areas where sufficient numbers of newcomer students are available to fill the class. For the 2021-2022 school year, we are pleased to be able to offer a Designated ELD Course, an English class, and an Algebra class with other Newcomers. These classes will be small and will be taught to ensure that students are getting the support they need while accelerating their language development.  
Please contact us if you believe that your student is eligible or you would like more information.
Parent Rights:
You have a right to decline English Learner support services. Please be aware that your student will still be required to take the California state language exam (ELPAC) every year until your student is able to reclassify.
We will continue to develop our Newcomer Pathway this year with input from the community. Please join us for the following family and community engagement events.